Hot Spots of Branson MO Branson's Premier Places.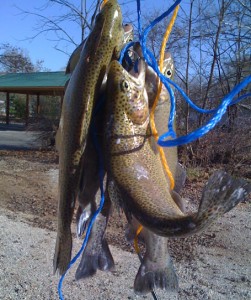 Table Rock Lake is the result of the Table Rock Dam located Southwest of Branson, Missouri, on the White River.  Table Rock Dam was completed in 1958 and began producing hydroelectric power in 1959.  Table Rock Lake has about 745 shoreline miles (at conservation pool level).  It is the home to many recreational activities including boating, fishing, and scuba diving. Fun Facts about Table Rock Lake:
Storage Capacity of Table Rock Lake = 3,462,000 acre-feet (760,00 for flood-control and 2,702,000 for generation of power)
Drainage area = 4,020 square miles
Auxillary Spillway was completed in 2005
Power Station can produced 200,000 kilowatts
For more information on Table Rock Lake see the U.S. Corps of Engineers Site.
Useful links for Table Rock Lake Information:
Link to the U.S. Corps of Engineers maps of Table Rock Lake.
Link to the current Table Rock Lake levels.
Link to the Missouri Department of Conservation Fishing report.
Link to the USGS Real-time Missouri Streamflow data.